"Oz has changed," Gert said. "The trees don't talk. The Pond of Truth tells lies, the Wandering Water stays put. The Land of Naught is on fire. People are starting to get old. People are forgetting how it used to be."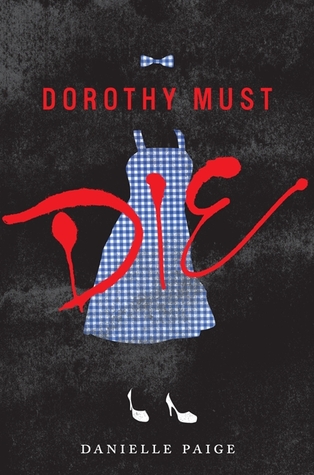 Rating: 2/5
I love books that do a modern twist on the classic. So when I saw this, where Dorothy "wicked" and destroying the land she once had saved, It was an instant buy.
Amy Gumm has a terrible life. After her father left her for another woman, she is living in a trailer park with her pill addicted mother, in Kansas, and during the day at school is bullied by a cheerleader. When a tornado strikes, Amy finds herself in the middle of Oz. But this isn't quite the same Oz as the one Amy grew up watching. The magic is being drained, the Munchins are slaves and Dorothy and her gang are a little different. Amy has landed in an Oz where words like good and Wicked have lost their meaning. It's up to Amy to determine who to trust, and to what extent she will go in order to save the land of Oz.
This novel had a really strong beginning. I didn't love Amy straight off, but I did find her, and her messed up life, interesting. When she was swept up and landed in Oz, I was excited to see where it would go! Unfortunately, that yellow road lead downhill…
I really liked the idea that each of the gifts given to Dorothy, the Tin Woodman, the Scarecrow and the Lion ended up being their downfall. Except from that, Oz was pretty dull. In the story, the training took up a large bulk. of which a large focus was placed on the love story, which I found really irritating. Once again, the main character falls for the mysterious boy *yawn*. Yes, Nox was intriguing, but the jealousy that overtook Amy after a short period of time, causing essentially a cat fight between the two girls was infuriating.
What was most frustrating is that no where on the book did it say it was part of a series. So I get to the end of a pretty chuncky, and needlessly bulked out book in which very little happens until the last 50 odd pages, to find that no one actually dies. In fact, the knowledge of how to kill Dorothy (found out in the last 10 pages) is written on the blurb!
A very frustrating read. I probably won't be reading the next one if it's as drawn out as this one.