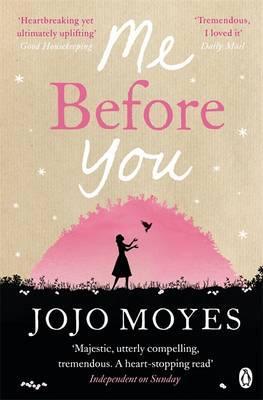 Rating: 5/5
I know how the saying goes, but I am a sucker for judging a book by it's cover. If it's pretty, I'm drawn to it. With this book, I had heard of it before, and knew that Moyes is good author, so I didn't even read the blurb before I began reading it. I would seriously recommend doing this for authors that you know you like – don't bother reading the blurb, don't look at other people's reviews, just start reading. You'll be amazing at how much you will enjoy a book!
I absolutely loved this book, unexpectedly to me, it tackled large and sensitive issues including disabilities, but in a brilliant way that made me laugh but also cry – which is a huge feat as not many books actually make me cry!
The book revolves around Louisa, who has recently lost her job at a café, and has no experience or desire to work anywhere else, but is forced to apply for a job to be a carer for the next sic months (as long as she doesn't have to wipe bottoms). Following an accident two years ago, Will is now a paraplegic, which is a stark contrast to his life before. He is now confined to his motorised wheelchair and in constant pain, with only limited movement of his neck and one hand, loosing him all sense of freedom.
I'm trying my best not to give away too much of the plot, as I feel it would ultimately result in spoilers. So, although the story is presented via the cover as being a romance book, it is not, really. Yes, there is love in this book, but that isn't the primary focus. The focus is the psychological struggle that each character goes through, which is what makes the book so powerful.
It's not an easy read, tackling many big issues, but it is definitely worth it.