"Our Dragon doesn't eat the girls he takes, no matter what stories they tell outside our valley. We hear them sometimes, from travelers passing through. They talk as though we were doing human sacrifice, and he were a real dragon. Of course that's not true: he may be a wizard and immortal, but he's still a man, and our fathers would band together and kill him if he wanted to eat one of us every ten years. He protects us against the Wood, and we're grateful, but not that grateful."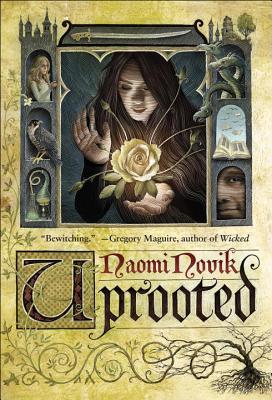 Rating: 3/5
ARC provided by Macmillan through NetGallery.
Book Synopsis
Agnieszka loves her valley home, her quiet village, the forests and the bright shining river. But the corrupted Wood stands on the border, full of malevolent power, and its shadow lies over her life.
Her people rely on the cold, driven wizard known only as the Dragon to keep its powers at bay. But he demands a terrible price for his help: one young woman handed over to serve him for ten years, a fate almost as terrible as falling to the Wood.
The next choosing is fast approaching, and Agnieszka is afraid. She knows—everyone knows—that the Dragon will take Kasia: beautiful, graceful, brave Kasia, all the things Agnieszka isn't, and her dearest friend in the world. And there is no way to save her.
But Agnieszka fears the wrong things. For when the Dragon comes, it is not Kasia he will choose.
My Thoughts
I first decided to read this book because many bloggers that I love, and have very similar tastes as me, LOVED this book. You just need to look at the stats on Goodreads to see how many people adore this book (It's average rating is 4.29 – very impressive!)
There was a lot in this book I loved. The first few chapters really got me hooked – Agnieszka lives in a small, quiet village surrounded by forests and a river. But the Wood is corrupted, leaving her people to reply on the wizard known as the Dragon to keep the wood's powers at bay. In return for this, he demands one woman to be handed over to serve him for ten years, locked in his tower, no longer able to see her family. When they are released, they usually only stay with their families for a week before leaving the village all together.
As much as this intrigued me, and hooked my attention, this was lost as the book progressed. Maybe this is due to me reading it when I was tired, and with quite long gaps between picking up the book, maybe it was the hype, maybe it was the writing style.
An element that really frustrated me was the relationship aspect. Romance is not a main focus of the book, nor should it be. I enjoy romance if it is developed subtly, but this was not. There was no hint of romance or attraction, and suddenly there is a passionate make out session. The lack of build up frustrated me, and the fact that he is 150 and she is 17 disturbed me.
I feel I may try and re-read this book in the future when I have less on my plate and more time to give it the attention it deserves.