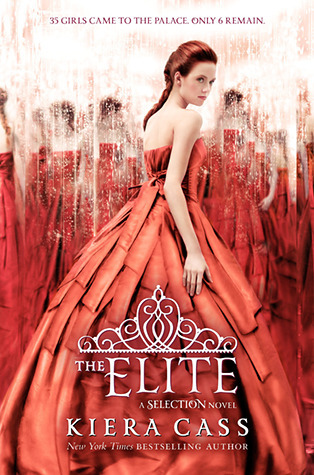 Rating: 4/5
Book Two in the Selection series. Review for Book One: here.
Synopsis (Goodreads)
The Selection began with thirty-five girls.
Now with the group narrowed down to the six Elite, the competition to win Prince Maxon's heart is fiercer than ever—and America is still struggling to decide where her heart truly lies. Is it with Maxon, who could make her life a fairy tale? Or with her first love, Aspen?
America is desperate for more time. But the rest of the Elite know exactly what they want—and America's chance to choose is about to slip away.
My Thoughts
I loved The Selection and was itching to get the next book in the series, before I had even finished the book I was requesting this one and looking online and in my local library. When I was accepted to receive and digital copy of this book (with thanks to HarperCollins on Netgallery) I began reading straight away, finishing the book in one sitting.
I enjoyed this book, but didn't feel that it was quite as captivating as the first – an issue I find with many second books. I mainly disliked this book less because America would not make a decision and stick with it. I know many people enjoy reading love triangles, but I find them very tedious and frustrating. Especially in this case, where it is evident who she will choose, she is solely stringing the other person on as a back up in case her first choice fails.
I enjoyed that we got to see more of the world outside of the castle within this book. I found the history lessons in the first book a bit confusing and slightly out of place, but it began to make more sense within this book as the rebels began to invade.
This was a solid sequel and I am looking forward to reading the final book.