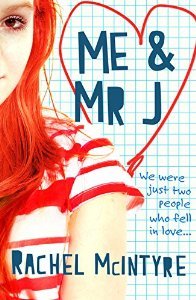 Rating: 4/5
ARC from NetGallery
Synopsis (Goodreads)
Fifteen-year-old Lara finds her soulmate. There's just one problem – he's her teacher.
Lara's life has changed radically since her father lost his job. As the eldest, Lara tries to keep upbeat, and the one outlet for all her problems is her diary where she can be open about how dire everything is at home, and worse, the fact that she's being horrifically bullied at school.
And then a shining light comes out of the darkness – the new young and MALE teacher, Mr Jagger. The one person who takes Lara seriously and notices her potential. The one person who is kind to her. The one person who she falls madly and hopelessly in love with. The one person who cannot reciprocate her feelings … can he?
My Thoughts
When I saw this book on NetGallery, I was intrigued; a book about a girl who has feelings for her teacher could go one of two ways. Either it could be a whiny girl who mopes over her teacher but ends up getting a boyfriend her own age in the end (which I was expecting) or it could be about the more taboo topic of the teacher reciprocating the feelings and acting upon them.
The book was an interesting and difficult book to read. It was written in the form of Lara's diary entries, meaning we had full access to her emotions. In many ways it reminded me of reading "Forbidden" by Tabitha Suzuma as it tackled a taboo subject, explaining how the situation could develop and seem normal and natural to the characters involved. Through Lara's eyes, she evidently doesn't see an issue in it, and does't feel she's being groomed, if anything it is her leading him on. The book was particularly difficult as it takes the subject that society deems as being wrong regardless of any situation, and makes the reader question whether this relationship truly is wrong. For me, the ending was brilliant, with the letter she may never send, with the self realisation.
Not only was the book written about a difficult subject, but what the blurb fails to mention, is that Lara is also subject to vicious bullying, which is central to the plot. The bullies have singled Lara out, making it clear that if she speaks to anyone then her family will also suffer. With no friends in the school, Lara is completely alone to deal with the attacks they inflict upon her.
This was a very interesting book, tackling the taboo subject very well. It was definitely a difficult book to read, and I feel some people may not complete it due to the content, but I would still recommend it.