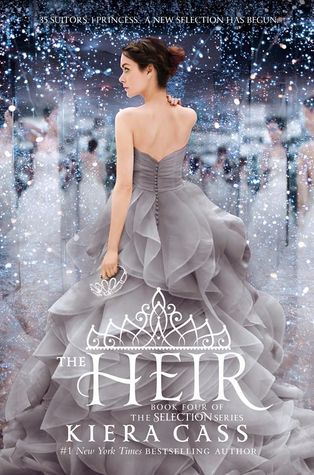 Rating: 3/5
This is Book Four in The Section Series (Reviews of the rest of the series: The Selection, The Elite, The One)
Synopsis (Goodreads)
Princess Eadlyn has grown up hearing endless stories about how her mother and father met. Twenty years ago, America Singer entered the Selection and won the heart of Prince Maxon—and they lived happily ever after. Eadlyn has always found their fairy-tale story romantic, but she has no interest in trying to repeat it. If it were up to her, she'd put off marriage for as long as possible.
But a princess's life is never entirely her own, and Eadlyn can't escape her very own Selection—no matter how fervently she protests.
Eadlyn doesn't expect her story to end in romance. But as the competition begins, one entry may just capture Eadlyn's heart, showing her all the possibilities that lie in front of her . . . and proving that finding her own happily ever after isn't as impossible as she's always thought.
My Thoughts
If you have read my previous reviews, you will know that I couldn't help myself, I simply adored the first three books in the series. This book was good, but I didn't find myself hooked and unable to put the book down, as I did with the rest.
The premisis is the same as the first three books, but instead of seeing it from one of the girls who are competing for the princes heart, we see it from the Princess' point of view having to select from the thirty five men. Despite Eadlyn being America's daughter, she is nothing like her! For this reason, many people are going to hate her, I certainly did to being with. She comes across as selfish and spoilt at first, but she knows what she wants and doesn't apologise for it. She has certain things expected of her, and her life governed for her, but she is firm that she does not want to marry. Although people may hate her for this, I found it quite refreshing.
Although I liked the character, I found that there were so many supporting characters that even Cass forgot about them once in a while. After cutting off the original twelve on the first day, there should have still been twenty three men remaining. Cass mainly focused on about six of these, which threw me off completely when she began throwing a couple of other's names. I enjoyed that there were names from the earlier books still in there, but found that what little of them was mentioned, I didn't like them as much.
My goodness, Cass sure does like stranges names. Throught the series I have been thinking that most of the names are strange, but this has been raised further in this book,  primarily due to the fact that I have no idea how to pronounce Eadlyn. There were lots of other strange, and sometimes stupid, names; Ahren, Osten, Burke, Gavril, Kaden and my personal favourite for stupidity, Fox Wesley, which I kept reading as Fox Weasley. However, like most YA or Fantasy books, if you pick up a baby book and find the meanings of the names, they generally make sense for the character's personality traits.
However much this book may have annoyed me, or that I liked it less than the others, nothing will stop me from reading the next one! I'm such as sucker for these books.