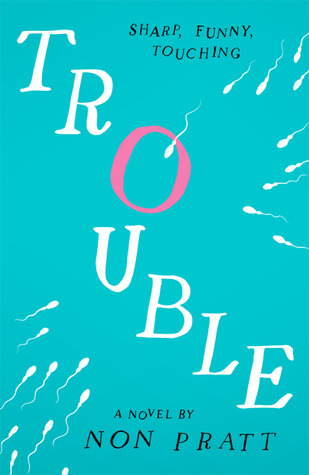 Rating: 4/5
Synopsis (Goodreads)
In this dazzling debut novel, a pregnant teen learns the meaning of friendship—from the boy who pretends to be her baby's father.
When the entire high school finds out that Hannah Shepard is pregnant via her ex-best friend, she has a full-on meltdown in her backyard. The one witness (besides the rest of the world): Aaron Tyler, a transfer student and the only boy who doesn't seem to want to get into Hannah's pants. Confused and scared, Hannah needs someone to be on her side. Wishing to make up for his own past mistakes, Aaron does the unthinkable and offers to pretend to be the father of Hannah's unborn baby. Even more unbelievable, Hannah hears herself saying "yes."
Told in alternating perspectives between Hannah and Aaron, Trouble is the story of two teenagers helping each other to move forward in the wake of tragedy and devastating choices. As you read about their year of loss, regret, and hope, you'll remember your first, real best friend—and how they were like a first love.
My Thoughts
This book was first brought to my attention by Becky who recommended this book to everyone she possibly could, giving it a glowing review. I like most books that she does, so when I saw it in the library I thought "why not?". And Becky was not wrong, it was a very good book. But it's one of those books that have me completely torn – on one hand I love the issue it tackled, it had very real characters and the book engaged me. But then I didn't like the way it dealt with certain issues.
I loved the characters, they were very real, discussing real things and doing things teenagers do. I know many people would completely disapprove of this, and think it's not typical of teenagers, but yes teens are out seeking drinks and having sex at 15. Ignore it and condemn it as much as we may like, but it happens. There are few that don't, and that is fine too, but many do and it's an element of teen life that this book does not ignore. The book flicks between Hannah and Aaron's points of view, which is a style that I completely adore in any book. I love the way that not only do we see more into each individual's lives and thoughts, but you can see how how their impressions of the other character develops as the events unravel.
The book is, as highlighted by the blatant sperm on the front page, about teenage sex and pregnancy. And as it is blatant on the front, it is also throughout (although there are no explicit sex scenes). It is very honest, which is definitely what helps make the characters real and relatable. It take a controversial topic, and turns it upside down, making you laugh throughout. Although Hannah is pregnant, she doesn't necessarily act the way one would expect her too. Additionally, the focus is not solely on her pregnancy, with only an occasional reference to some of the pregnancy symptoms, but on her relationship with her friends and their arguments, and her family.
However, with out spoiling it, I didn't like who the father turned out to be or how it was dealt with. Technically, Hannah falling pregnant at fifteen would be statutory rape, combine this with the father, would this realistically be ignored by the parents and not perused any further? There was, to my recollection, no mention of how the parents dealt with who the father was. For me, it took a book that could have been very realistic and made it less so.
Despite my quibbles, I thought this was a very good book, and would recommend it to older readers who enjoy reading twists on more controversial topics.