"I actually need your help. You see, your friends are hot. And you, darling, are the Duff."
"Is that even a word?"
"Designated. Ugly. Fat. Friend," he clarified. "No offense, but that would be you."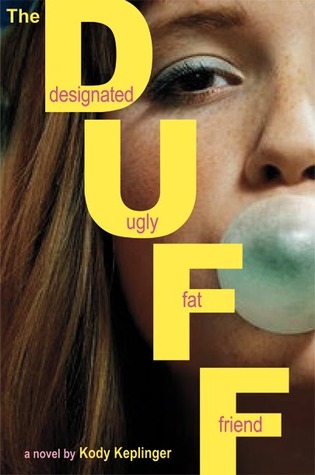 Rating: 3/5
Synopsis (Goodreads)
Seventeen-year-old Bianca Piper is cynical and loyal, and she doesn't think she's the prettiest of her friends by a long shot. She's also way too smart to fall for the charms of man-slut and slimy school hottie Wesley Rush. In fact, Bianca hates him. And when he nicknames her "the Duff," she throws her Coke in his face.
But things aren't so great at home right now, and Bianca is desperate for a distraction. She ends up kissing Wesley. Worse, she likes it. Eager for escape, Bianca throws herself into a closeted enemies-with-benefits relationship with him.
Until it all goes horribly awry. It turns out Wesley isn't such a bad listener, and his life is pretty screwed up, too. Suddenly Bianca realizes with absolute horror that she's falling for the guy she thought she hated more than anyone.
My Thoughts
I was lucky enough to pick this book up, knowing little more than it is meant to be good, and the title. I had no idea that they were turning it into a film until after I had completed it, and the sequel (Lying Out Loud). Immediately after reading this book, I gave it 4 stars. I whizzed though it, finding it funny, frustrating and enjoyable. But looking back, I'm not sure it was worth that, mainly because I had to re-read the synopsis to remember what even happened, which is why I dropped it down to 3 stars.
The story line is essentially Bianca hating a guy, but sleeping with him and hiding it from her friends, then finally realising that she actually has feelings for him. Bianca herself is likeable, but incredibly frustrating, making stupid decisions and blaming other people for her mistakes. Generally, teenagers pretend to hate people that they secretly like. As the book progresses, she realises she likes Wesley, but to begin with she says she hates him, kisses him then slaps him. To me, the majority of her responses and thoughts are typical teenager responses, which is what makes her likable, but other instances such as that one were just bizarre and not realistic.
Due to her family problems, her dad is an alocholic, and her low self-esteem, she begins sleeping with Wesley as a means of stress relief. I was so torn about this. On one hand, why not, they were safe and old enough. But on the other hand, I was thinking how unrealistic it actually would be considering they are meant to be in highschool. To me, it would have been more realistic if they were in university, especially for Wesley to be left on his own that often.
The book was lovely for a nice, light read, but nothing overly memorable.