Today is the day that the children return to school! (If you would like to hear about my first day, the post can be found here) As I am in a Key Stage One class, I thought I would post up children's books that I have, many that I have bought recently, that I cannot wait to share with my class!
Never Tickle a Tiger by Pamela Butchart
I laughed, very loudly, out loud in a shop when I read this book, and I just had to buy it! Fidgety Izzy is going around the zoo winding up the animals whilst her teacher is telling her not to. When she is told not to tickle the tiger, does she listen? What happens next causes complete chaos in the zoo. Although she learns her lesson not to tickle the tiger, she cannot help think what will happen is she prods a polar bear…
This book is full with lots of lovely alliteration; tapping the tortoises, poking the peacocks and bothering the bears, which would be lovely to expand on with children.
 The Scarecrows' Wedding by Julia Donaldson
I absolutely adore Julia Donaldson books, they're fun, clever and full of morals, and I love that her books rhyme throughout. Although this book may not be my favourite by Julia, it is no exception. Two scarecrows, Harry and Betty, decide to get married and involve all the farm animals in their wedding plans to collect a dress, rings, a bell and flowers. But whilst Harry the scarecrow is out collecting the items, the farmer creates a new scarecrow, Reginald, to stand in the field. He hits on Betty and then begins to smoke a cigar, then runs away when he causes a fire in the hayfield! Luckily, Harry arrives back just in time to save Betty and they get married.
A lovely, entertaining book, with an anti-smoking message. I cannot wait to read it with my year ones.
The Gruffalo's Child by Julia Donaldson
I cannot believe that I only read this book for the first time a couple of days ago. Having loved reading "The Gruffalo", this was a brilliant and clever sequel. The book follows the same description sequence that The Gruffalo does, but for the mouse, highlighting his "wiry whiskers" and his "scaly tail". A very entertaining read!
Monkey Puzzle by Julia Donaldson
I read this book with a group of 4-6 year old children. We loved using the clues to guess who the butterfly would find based on the information it was given.
It also had a lovely link that although many babies look like their mum/dad, the butterfly's children are caterpillars.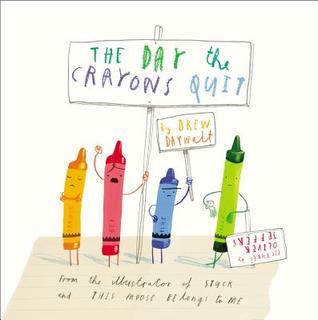 The Day the Crayons Quit by Drew Daywalt
Within the book are a series of letters from each of the different crayons complaining about how they have been used – some too much, others too little, some only for the same the objects. By the end, all the crayons get used to colour in a picture, colouring in the objects in different colours.
I think this will be lovely to use when doing non-fiction writing and complaints!
The Dinosaur That Pooped A Lot! by Dougie Poynter and Tom Fletcher. 
Yes, you read those authors correctly, they are indeed McFly (or now, McBusted) members! Now combined my love of these boys with my love of books, this was a must read! This was released as a World Book Day book, and recaps the previous two books in the series. It  finishes with the dinosaur having to poop to save the day. I can imagine my children will love this!
Have you read any of these children's books? 
Are there any books you would like to recommend that I buy?