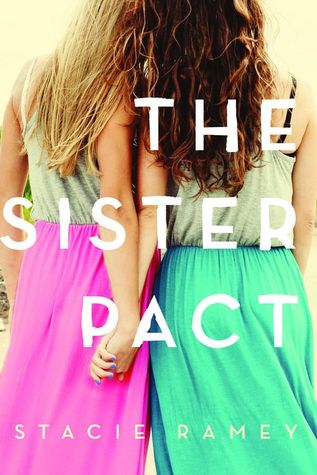 Rating: 4/5
I received an ARC from NetGallery in exchange for an honest review.
Expected Publication: 3rd  November 2015
Synopsis (Goodreads)
A suicide pact was supposed to keep them together, but a broken promise tore them apart.
Allie is devastated when her older sister commits suicide–and not just because she misses her. Allie feels betrayed. The two made a pact that they'd always be together, in life, and in death, but Leah broke her promise and Allie needs to know why.
Her parents hover. Her friends try to support her. And Nick, sweet Nick, keeps calling and flirting. Their sympathy only intensifies her grief.
But the more she clings to Leah, the more secrets surface. Allie's not sure which is more distressing: discovering the truth behind her sister's death or facing her new reality without her.
My Thoughts
I have read a few books about loosing a loved one recently. I find books on how people who deal with grief interesting as different people obviously deal with it in different ways. In the books I have been reading more recently, their grief has been almost subtle and silent in comparison to the self destructive grief that Allie is portrayed to have.
Allie has lost her sister. A first (if you ignore the blurb) there are hints that it is suicide, but this is not fully revealed until a few chapters in. Allie and Leah had a pact that they would go together, so when Allie finds Leah she is, understandably, devastated. On top of loosing her sister, Allie's mum is addicted to pulls, and her dad has left them for another, younger woman. Allie is going through so much due to her sister's suicide that she is making decisions that are not good for her. She begins pushing friends away, her art begins to change, and she begins finding solace in the school drug dealer.
I really enjoyed this book and loved how it slowly unraveled truths to Allie about her sister and her sisters death. The author managed to incorporate Leah into the story without it seeming too over dramatic or cheesy, presenting her through Allie's mind. I'm incredibly hard to make cry, but I can imagine that many people will be in floods of tears by the end of the book, as it is every emotive.
This book deals not only with suicide, but with many other issues that teens are facing today such as drugs, sex and friendship disputes. I would recommend this books for people who like reading realistic, gritty, contemporary novels.