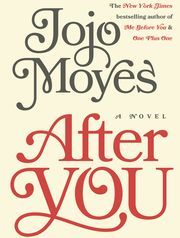 Rating: 3/5
Book Two of Me Before You.
ARC received in exchange for an honest review.
Synopsis (Goodreads)
How do you move on after losing the person you loved? How do you build a life worth living?
Louisa Clark is no longer just an ordinary girl living an ordinary life. After the transformative six months spent with Will Traynor, she is struggling without him. When an extraordinary accident forces Lou to return home to her family, she can't help but feel she's right back where she started.
Her body heals, but Lou herself knows that she needs to be kick-started back to life. Which is how she ends up in a church basement with the members of the Moving On support group, who share insights, laughter, frustrations, and terrible cookies. They will also lead her to the strong, capable Sam Fielding—the paramedic, whose business is life and death, and the one man who might be able to understand her. Then a figure from Will's past appears and hijacks all her plans, propelling her into a very different future. . . .
For Lou Clark, life after Will Traynor means learning to fall in love again, with all the risks that brings. But here Jojo Moyes gives us two families, as real as our own, whose joys and sorrows will touch you deeply, and where both changes and surprises await.
After You is quintessential Jojo Moyes—a novel that will make you laugh, cry, and rejoice at being back in the world she creates. Here she does what few novelists can do—revisits beloved characters and takes them to places neither they nor we ever expected.
My Thoughts
I ADORED Me Before You. I gave it a 5 stars. It ruined books for me. I honestly couldn't find another book that I enjoyed as much as it for almost a year. It made me laugh and cry, and then cry some more – which is a mean feat as not many books can actually make me cry.
Moyes placed a statement at the beginning of the book stating that she didn't want anyone giving away spoilers as she knew how the first book made people feel and she wanted them to still be able to get those feelings for this book. I agree, and will try to honor her wishes, partly because I feel any spoilers for this book will also ruin the first book for anyone who hasn't read it. However, this does make it very difficult to write a review for any of the book without ruining the first one!
When I heard that Moyes was releasing a second book, about Louisa's life a year later, I had very mixed feelings. I almost didn't read it because I didn't feel it would be as good as the first. Although I enjoyed this book, it ultimately wasn't as good because it wasn't needed. Everything that needed to be said had been in the first book. That is what this book comes down to – It is a bid to satisfy the cravings of the readers that loved Me Before You and what to solidly know what happens next.
One of the reasons I loved Me Before You was that although it was a deep issue, there were still many comical moments. Without the dynamic between Will and Lou, there were still a few moments of comedy, but this was a much more depressing book.
It is difficult to explain the plot without ruining the first book, but I did not find it as gripping. In most parts it was forgetful and forced in order to extend a story that has already been told.
I can understand why lovers of Me Before You would like/need to read this book, but I feel if you go in expecting to feel the same emotional punch of the first book, you will be severely disappointed.