''So,'' she says, looking back at me. ''You are well equipped for our service.''
''Which is?''
''We kill people.''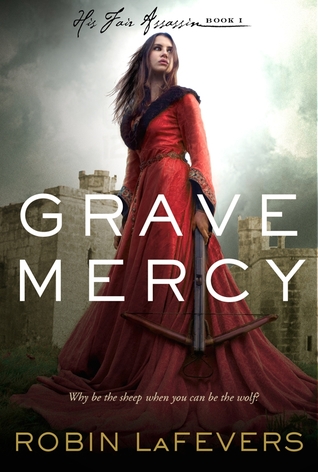 My Rating: 4/5
Why be the sheep, when you can be the wolf?
Seventeen-year-old Ismae escapes from the brutality of an arranged marriage into the sanctuary of the convent of St. Mortain, where the sisters still serve the gods of old. Here she learns that the god of Death Himself has blessed her with dangerous gifts—and a violent destiny. If she chooses to stay at the convent, she will be trained as an assassin and serve as a handmaiden to Death. To claim her new life, she must destroy the lives of others.
Ismae's most important assignment takes her straight into the high court of Brittany—where she finds herself woefully under prepared—not only for the deadly games of intrigue and treason, but for the impossible choices she must make. For how can she deliver Death's vengeance upon a target who, against her will, has stolen her heart?
My Thoughts
I originally requested this book from NetGallery. Although I was accepted to read it, I forgot to download the book before it was archived. I thought it would be fine – I didn't need to read it… But then I kept seeing it everywhere and it sounded so interesting. I finally caved and bought it and I am so glad I did.
I love books that involve assassins and I love books that have female assassins. So when we were introduced to the convent, I fell in love. I loved the idea of the convent teaching these young girls thousands of different ways to kill people, not just using the usual poisons and weapons, but through their "womanly charms" too.
LaFevers does a brilliant job at bringing the 15th century to life with fantastic historical details.  From going onto LaFevers' website, they explain that a lot of the information is factual – the twelve year old inheriting the duchy of Brittany, being betrothed to half a dozen suitors,along with a lot of the political aspects.
The book involves mystery, romance and assassination. It's not an adventure novel, so there is not action on every page, but stick with it an you will be rewarded. Although all the characters may not be to everyone's taste, knowing that most of them were real people makes it far more interesting.
A definite recommendation to YA fans, especially those with an interest in historical fiction.