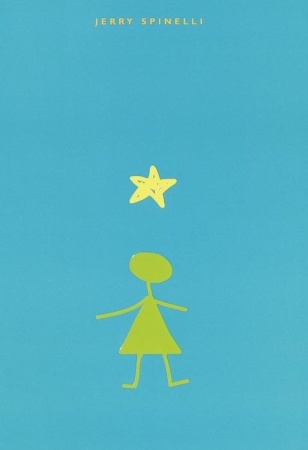 My Rating: 3/5
ARC provided by NetGallery in exchange for an honest review.
Synopsis (Goodreads)
From the day she arrives at quiet Mica High in a burst of color and sound, hallways hum "Stargirl." She captures Leo Borlock's heart with one smile. She sparks a school-spirit revolution with one cheer. The students of Mica High are enchanted. Until they are not. Leo urges her to become the very thing that can destroy her – normal.
My Thoughts
I have seen this book a number of times and keep being drawn to it due to its simple and striking cover. When I saw it on NetGallery I had to read it.
It was a sweet and lovely book about individuality, nonconformism and peer pressure. Stargirl is new to the school, she is bright, smiles, waves to people, dances in the rain, remembers everyone's birthdays and watches a boy across the street so she can make a scrapbook about him without his knowledge. She is unconventional and met with mixed views.
All written from Leo's perspective, we see how he becomes fascinated by Stargirl, but allows his actions to be influenced by the school's views. Due to her antics, Stargirl becomes wildly popular and then completely despised. For Leo, she experiments with being conventional to help fit in.
Although I enjoyed the book, I didn't like it. I couldn't relate to the as my school was nothing like the one described, not even close, nor have I ever met someone like Stargirl. Although she was described as very sweet I found her unreal.
I know many people love this book. It's not a bad book, but it's definitely aimed at a younger audience than myself.