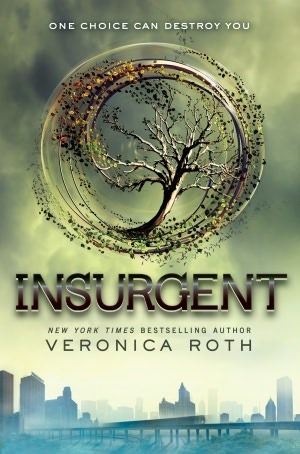 My Rating: 2/5
Book 2 of the Divergent Series.
An e-book was provided by NetGallery in exchange for an honest review.
Synopsis (Goodreads)
One choice can transform you—or it can destroy you. But every choice has consequences, and as unrest surges in the factions all around her, Tris Prior must continue trying to save those she loves—and herself—while grappling with haunting questions of grief and forgiveness, identity and loyalty, politics and love.
Tris's initiation day should have been marked by celebration and victory with her chosen faction; instead, the day ended with unspeakable horrors. War now looms as conflict between the factions and their ideologies grows. And in times of war, sides must be chosen, secrets will emerge, and choices will become even more irrevocable—and even more powerful. Transformed by her own decisions but also by haunting grief and guilt, radical new discoveries, and shifting relationships, Tris must fully embrace her Divergence, even if she does not know what she may lose by doing so.
My Thoughts
This book had classical second book syndrome. It most certainly is a filler and is building up to the third book. Unfortunately, it was huge and very slow to get going.
I enjoyed Divergent (review here), which was essentially a long initiation process, but I liked the obstacles along the way and that the romance, although predictable, wasn't overly forced.
Insurgent picks up directly from where Divergent leaves off, which could be very frustrating for people who haven't read the first one in a while. While Divergent was very strong in it's plot, it knew exactly where it was going, Insurgent was a bit all over the place. The main points were that society collapses, Tris deals with the consequences of her actions, an alliance is forged, a broken alliance, an alliance, a broken alliance…  I just found it really hard to get through, it wasn't as gripping as Divergent, and I had to put it down a few times.
Whilst I liked Tris and Four in Divergent, I almost loathed them both in Insurgent. They felt like completely different characters. Tris made stupid, reckless and short sighted decisions that seemed out of character. Although events before would change her choices slightly, her whole character changed seemed very sudden and out of the blue. While before, Four  was sweet and a little mysterious, now he seemed aggressive and always shouting at Tris and picking fights. Both kept secrets from each other and picking fights which was just frustrating and eliminated all romance that was in the first book. They seemed a team in the first book and weren't even close in this one.
There were quite a few deaths within this book. Which was in a way good because they weren't predictable. However, I found myself feeling no emotional loss when they died. This worries me.
I found this book disappointing in comparison to Divergent, but I am praying that the third installment is much better.