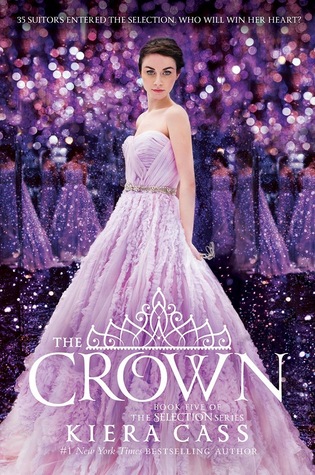 Title: The Crown
Author: Kiera Cass
Genre: Teens & Young Adult,
Published: 3rd May 2016 by Harper Collins, UK.
Fifth and final book in The Selection series. (Book 1-4 reviews: The Selection, The Elite, The One, The Heir).
ARC provided by Harper Collins in exchange for an honest review.
Synopsis (Goodreads)
Twenty years have passed since the events of The One, and America and Maxon's daughter is the first princess to hold a Selection of her own. Princess Eadlyn didn't think she would find a real partner among the Selection's thirty-five suitors, let alone true love. But sometimes the heart has a way of surprising you… and now Eadlyn must make a choice that feels more difficult—and more important—than she ever expected.
The Selection series has sold more than 3 million copies and captured the hearts of fans around the world. This swoon-worthy final installment is the happily ever after they've all been waiting for.
My Thoughts
The first three books of The Selection series revolved around America, a participant in the selection process to gain Prince Maxon's heart. I adored the these books and was thrilled when I saw that a fourth book was coming out. Books four and five center on Eadlyn, America and Maxon's eldest daughter and her Selection process.
This was a good end to the series, with a few surprises and tying everything together well.
I felt Eadlyn was a stronger character in this book than she was in the previous book as I found her a little whiny. She stepped up and put others first, especially her family.
The book focused less on the Selection, although still a large role, and more on Eadlyn stepping up following her mother's illness. Her choices during her Selection we very driven by her desire to do what was best for the Kingdom and her parents, which I found refreshing.
Ultimately she does choose a partner and the Selection does end. But who? That I'm not spoiling! I'm not even going to let you know if I would have chosen them…
Happy reading!
My Rating