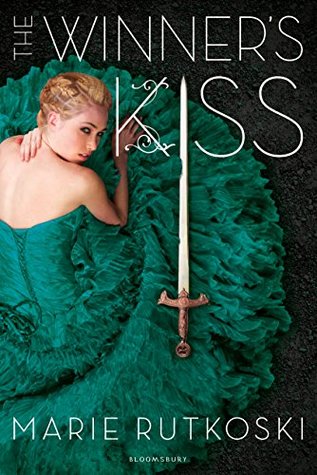 Title: The Winner's Kiss
Author: Marie Rutkoski
Series: The Winner's Trilogy #3 (The Winner's Curse #1, The Winner's Crime #2)
Publication: March 10th 2016 by Bloomsbury Children's.
Genre: YA, Fantasy
ARC provided by Bloomsbury Children Publishers in exchange for an honest review.
Synopsis (Goodreads)
Following the intrigue and danger of The Winner's Curse and the revolution and romance of The Winner's Crime, Kestrel finds herself in the tundra's mines and Arin has sailed home. The empire seems unstoppable.
Lies will come undone, and Kestrel and Arin will learn just how much their crimes will cost them in this third and final installment in the heart-stopping Winner's trilogy.
My Thoughts
If it weren't for my month being incredibly busy, I think I would have read this in one, possibly two, sittings.
Ultimately I knew that Arin and Kestrel were going to get together. The journey was interesting part. Combine that with more complex dynamics in relationships, and I was a happy bunny.
We begin the book with Kestrel in the tundra mines due to the events at the end of the previous book. Drugged and ordered to work long hours, she cannot remember herself, her past, her family or Arin. Arin is sailing back home, under the (wrong) impression of Kestrel's whereabouts and feelings. He is busy preparing his people for a war with Valoria. With a new alliance with Dacra and the god of Death on his side, he will not go down without a fight.
The Winner's Kiss was a a perfect conclusion to a popular and well written series. Arin and Kestrel both experience a lot of growth from the previous book, with Kestrel showing a lot of strength, pulling herself up from rock bottom. Kestrel was vastly different at the beginning of the book, both physically and mentally, meaning the book explored the mental strength of female characters really well.
The secondary characters weren't ignored with each one having a purpose in the book. I personally really liked Roshar with his sarcastic and witty remarks, especially at the most inappropriate times.
A highly recommended series with a highly satisfying conclusion.
My Rating