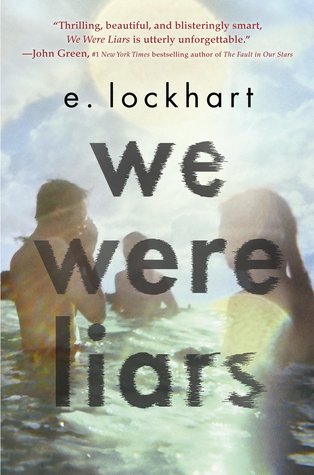 Title: We Were Liars
Author: E. Lockhart
Series: N/A
Publication: May 13th 2014 by Delacorte Press
Genre: YA
Synopsis (Goodreads)
A beautiful and distinguished family.
A private island.
A brilliant, damaged girl; a passionate, political boy.
A group of four friends—the Liars—whose friendship turns destructive.
A revolution. An accident. A secret.
Lies upon lies.
True love.
The truth.
My Thoughts
I picked this book up because I had heard that lots of people loved it but I had no idea what I was getting myself into. I read this book and then wanted to re-read it all over again because of the ending.
This book is particularly hard to review because I don't want to reveal the twist. It starts out as a tale about rich people who own their own island and houses where Cady spends the summer with her cousins, Mirren, Johnny, and their friend Gat. Then something happens during the fifteenth summer which results in her accident. When she returns to the island two years later no one will tell her what happened as the doctors want her to remember the memories on her own. What I will say is, if you pay attention throughout you can pick up on the vibe that something isn't quite right and you can find the little clues that tie all the characters and the story together.
Get your tissues ready and enjoy!
My Rating