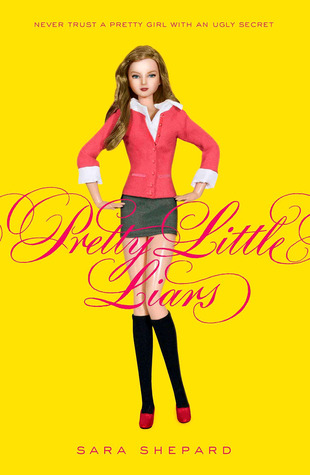 Title: Pretty Little Liars
Author: Sara Shepard
Series: Pretty Little Liars #1
Publication: October 1st 2006 by Harper Collins Publishers.
Genre: YA, Drama, Mystery, Romance.
Synopsis (Goodreads)
Three years ago, Alison disappeared after a slumber party, not to be seen since. Her friends at the elite Pennsylvania school mourned her, but they also breathed secret sighs of relief. Each of them guarded a secret that only Alison had known. Now they have other dirty little secrets, secrets that could sink them in their gossip-hungry world. When each of them begins receiving anonymous emails and text messages, panic sets in. Are they being betrayed by some one in their circle? Worse yet: Is Alison back? A strong launch for a suspenseful series.
My Thoughts
I've seen the first five series of the TV show Pretty Little Liars, so I knew the rough plot, but I hadn't gotten around to reading the books.
I think it's always a bit of a gamble reading a book that has been made into a TV series or film, especially if you have seen it. I finished this book wishing I had read it before the show. The book isn't very long so it is essentially just the fist episode of the TV series, which left me very disappointed. However, I imagine (or hope) that if I read the rest of the series there would be more differences with characters and plot twists.
From just this book, the characters in the book and the show are very close although I feel the TV show characters are a bit kinder. The book focuses on five best friends – Emily, Aria, Hanna, Spencer and Alison. During a sleepover in seventh grade, something happens and Alison walks out the door and disappears. Fast forward a few years later and the girls are no longer friends not talking since Alison's disappearance. Until they start getting messages from an anonymous sender called -A who knows secrets that they've only told one person. Alison. Aria is doing some extra credit with her English teacher, Spencer is getting too close to her sister's boyfriend, Hanna is going too far with her vanity and shopping addiction and Emily is testing the boundaries of her new friendship with Maya.
If it is anything like the TV series it is going to be an addiction. As there are 16 books in total, I probably wouldn't go out and buy the rest of the series unless it's on offer on my kindle or I find it in the library.
My rating