Top Ten Tuesday is a weekly feature hosted by The Broke and The Bookish. Every week they post a new top ten list and invite everyone to share their answers. It's a great way to learn more about the bloggers you follow and to find lots of new books. This week's topic is "TV Freebie". This is similar to this the past TTT of Top Ten: Movies or TV Shows. I've have chosen to do the shows I have watched most recently.
Community
I'm watching this on Netflix at the moment. It centers around seven people who return to community college. It makes lots of references to Film and TV, often parodying them, and pop culture. I love it.
Bones
I just love this series! It focuses on forensic anthropologist Temperance Brennan and the FBI agent Seely Booth as they investigate and solve murders. I binge watched so many episodes just waiting to see if they would finally get it on.
The Mentalist
When his family are killed by the serial killer, Red John,  Jane joins the California Bureau of Investigation using his skills as a Mentalist to manipulate people into confessing their crimes in the hopes of catching Red John. Very full on at times but also very funny.
Game of Thrones
If you haven't heard about this, then I don't know where you've been living for the past few years! The TV show has now strayed from the books which makes it very exciting. No character is safe, so don't get too attached. There are only 2 series left to be made. Who will win?
Once Upon A Time
I love modern twists on tales. In this show all the fairy tales come to life in a small town. I adore Regina, the evil queen, and I love how Rumpelstiltskin is also the Beast and the crocodile. Series 5 has just finished but you can catch them all on Netflix!
Him & Her
All set in the one apartment Him & Her is about a couple who live together. There are lots of awkward pauses and moments but it is very funny.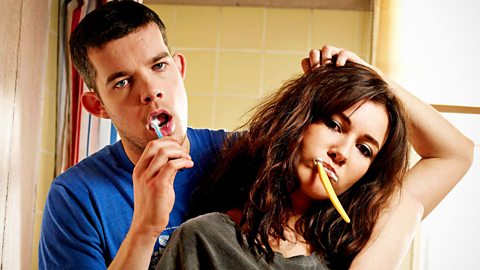 True Blood
This series has finished and I own all 7 on boxset. It has a lot of sex, annoying accents, mysical creatures and gorgoeus people.
Grey's Anatomy
This is on it's 12th season now and they are another show who like to kill off their characters. It's set in a hospital and focusrd around Meredith Grey and her fellow interns personal and professional lives. It's a bit like a soap drama but I love it.
Episodes
The show in which Matt LeBlanc plays Matt LeBlanc. Seriously, I really enjoyed this. A British husband and wife travel to America to re-make their successful TV series, which once Matt makes his demands, isn't quite what they thought it would be. It perfectly mixes American and British humour.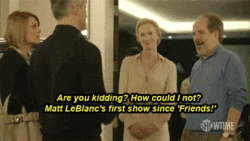 Other favourites (but not watched recently) – Sherlock, Friends, Merlin, House M.D., How I Met Your Mother.
On my TBW – Gossip Girl, Supernatural, Arrested Development, Dexter, Gilmore Girls,