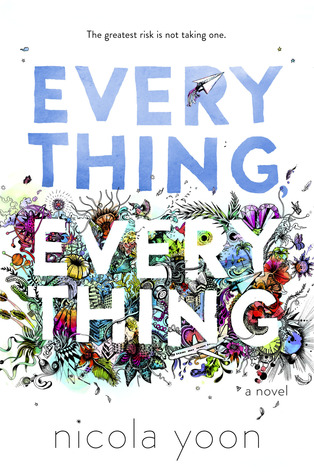 Title: Everything, Everything
Author: Nicola Yoon
Series: N/A
Publication: 1st September 2015 by Delacorte Books for Young Readers
Genre: YA
Synopsis (Goodreads)
My disease is as rare as it is famous. Basically, I'm allergic to the world. I don't leave my house, have not left my house in seventeen years. The only people I ever see are my mom and my nurse, Carla.
But then one day, a moving truck arrives next door. I look out my window, and I see him. He's tall, lean and wearing all black—black T-shirt, black jeans, black sneakers, and a black knit cap that covers his hair completely. He catches me looking and stares at me. I stare right back. His name is Olly.
Maybe we can't predict the future, but we can predict some things. For example, I am certainly going to fall in love with Olly. It's almost certainly going to be a disaster.
My Thoughts
I originally picked this book up because it was the book sent in the previous Illumicrate box, so I thought it must be good!
This is one of those books that's just okay, then it has a massive twist at the end. And it just left me feeling so cross and cheated.
Everything, Everything is a story about Madeline, a girl who has the rare condition SCID, meaning that due to her hypersensitivity, if she were ever to go outside of her house into the unfiltered air, something, anything, could trigger symptomatic attacks that could potentially kill her. For the past seventeen years, she has been in the house with her nurse and mum looking after her, whilst she does her school work through skype sessions. When Olly moves in next door, her daily consistencies change.
To sum this book up briefly:
Instalove
An illness that you don't really learn much about
A plot twist that is unrealistic and left me feeling cheated and annoyed, not shocked or happy.
By halfway through the book I was bored. I pushed myself to finish it because it's not that long and because I'd heard of the hype so thought it had to get better. I liked Madeline and Olly, especially the IM and little messages but I just wasn't feeling it. The whole story didn't sit right. Then we got to the plot twist and I turned from bored to cross. It explained why the story didn't feel right but it felt like an easy cop out to let love triumph.
When will I learn and stop picking up over hyped book…?
My Rating