It's been almost a year since my trip to Berlin and I have finally gotten around to writing about it.
We booked to go just before Christmas so we could see all the Christmas markets. What we didn't take into consideration was that we would inevitably fall ill as soon as the children stepped out of the classroom. Never NEVER NEVER fly with a cold or sinus infection, it was one of the most uncomfortable journeys I have ever had and it put me in a miserable mood for the whole trip – part of the reason it's taken me so long to write this. Now I have had time to get over how awful I felt, I can reflect on the wonderful things we did and saw in the city.
---
Berlin Zoo
This was my favourite day in Berlin and one of the biggest and best zoos I have been to (and I've been to a lot of zoos). The zoo is huge and we spend the most part of the day there. It was the first zoo I had been to that had polar bears! I loved the seals as they were putting on a show for us. The highlight for me was definitely the penguins as I was able to stroke them! This was probably a bit naughty of us but other people were too…
---
Museum Island
Five museums each packed with artifacts from all over the world. Our personal favourite was the room full of penis' and pottery covered in phallic objects. Our particular highlight was the statue of a man carrying a massive penis. The Romans really were very randy. Of course there was the impressive bust of Nefertiti and the Mammoth remains too.
---
Brandenburg Gate
This iconic gate was one of our first ports of calls. It's on the edge of a huge park (Tiergaten) which was beautiful to walk through.There's also a Starbucks right next to it – super for those of us who can't speak any other language and just want a cuppa before they begin to cry with exhaustion.
---
Christmas Markets
People had said to go to Germany for the Christmas markets. However, once you're there you realise that they are no different to the once that come to England. They did AMAZING bratwursts – they were basically all we ate in Berlin. We went to some markets outside of the Charlottenburg Palace, which was beautifully lit up at night, but you can find the markets all over the city.
---
Memorials
The city is full of reminders of it's past with the hauntingly still Holocaust Memorial and remains of the Berlin Wall. sadly, not everyone was so respectful and thought it would be hilarious to climb all over the holocaust memorial and jump from the different parts.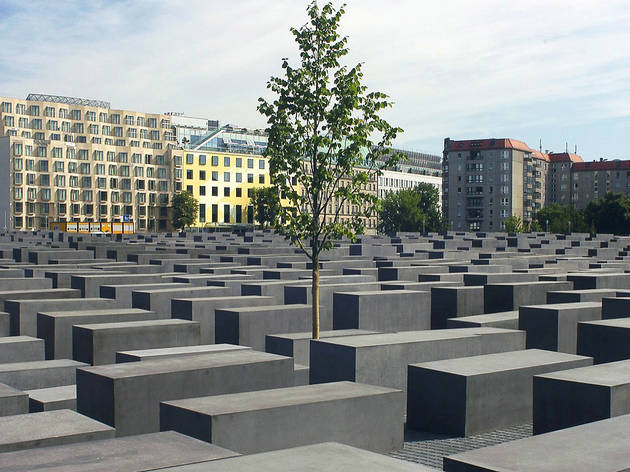 ---
Have you been to Berlin before?
 What was your highlight?