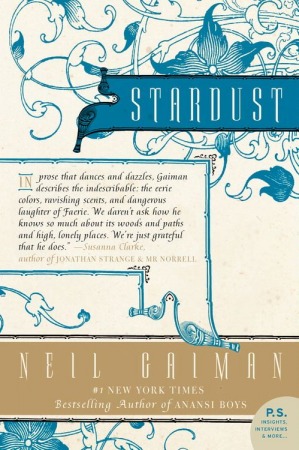 Title: Stardust
Author: Neil Gaiman
Series: N/A
Publication: 29th August 2006
Genre: Fantasy
Synopsis (Goodreads)
Young Tristran Thorn will do anything to win the cold heart of beautiful Victoria—even fetch her the star they watch fall from the night sky. But to do so, he must enter the unexplored lands on the other side of the ancient wall that gives their tiny village its name. Beyond that old stone wall, Tristran learns, lies Faerie—where nothing, not even a fallen star, is what he imagined.
From #1 New York Times bestselling author Neil Gaiman comes a remarkable quest into the dark and miraculous—in pursuit of love and the utterly impossible.
My Thoughts
This has been sitting on myself for years. I've never actually read a Neil Gaiman book before (I know, I know, I'm ashamed and shocked too). So, I'm very late to join the party – this makes me very conscious that there is very little I can add that hasn't already been said.
Within the book, we have Tristran and the star, Yvaine, on the journey back to Wall, the small village that Tristran lives in. The Witches, who are on the hunt for the star to consume her to restore their youth. Also on route to claim the star for their own are a trio of princes, as whomever claims her earns the Kingship.
Despite how short this book was, it took me a lot longer to read than I expected. The writing style was intelligent, with elaborate, beautiful prose combined with wit and humour. It took the stereotypical fairy tale and put a darker twist on it making it for adults. Within the first chapter there is a sex scene, death within the first half and some violence and gore.
I've seen the film before and found myself comparing the two as I read. I assume Gaiman worked closely on the film? As for the most part, the two are very similar. I found the ending of the book, not necessarily rushed, but over quicker than the film.
My Rating