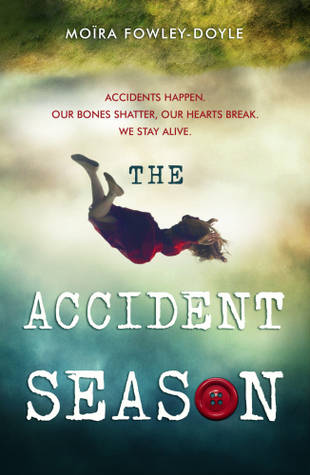 Title: The Accident Season
Author: Moira Fowley-Doyle
Series: N/A
Publication:  18th August 2015 by Corgi Children's
Genre: YA Fiction.
52 Book Challenge category –  A Magical Realism Noel
Synopsis (Goodreads)
It's the accident season, the same time every year. Bones break, skin tears, bruises bloom.
The accident season has been part of seventeen-year-old Cara's life for as long as she can remember. Towards the end of October, foreshadowed by the deaths of many relatives before them, Cara's family becomes inexplicably accident-prone. They banish knives to locked drawers, cover sharp table edges with padding, switch off electrical items – but injuries follow wherever they go, and the accident season becomes an ever-growing obsession and fear.
But why are they so cursed? And how can they break free?
My Thoughts
I finished this book late at night. I'm not sure if it was my tiredness or the abstract prose but I'm not really sure how this book ended.
The story is about a girl called Cara and her family. In October, her family begin to wrap themselves up in extra clothing to protect themselves as they become more accident prone – the time they call the accident season. The book begins with Cara noticing a childhood friend, who she rarely speaks to any more – Elsie – appearing in all her pictures. Sometimes it's her hair, others her elbow but she appears in every photo.
The book is full of a lot of strange bits, often seemingly random, about witches and mermaids. The first 3/4 of the book was quite slow, obviously building up to some twist. I almost put the book down within the first half as I found the plot to be going no where. So when I finally read the last quarter, I was confused with the explanation of the accidents and Elsie, among other things.
Due to the revelations and twists at the end of the book, it's really hard to delve into character's and why I liked/disliked them. I found Bea's personality off putting. She's a tarot  reader and has the a flare for creating strange tales. I found her tales unusual, out of place and in a few instances went on for a while. On the other hand, I really liked Alice and found her realistic.
As my first read of 2017 it was a very unusual and strange book.
My Rating