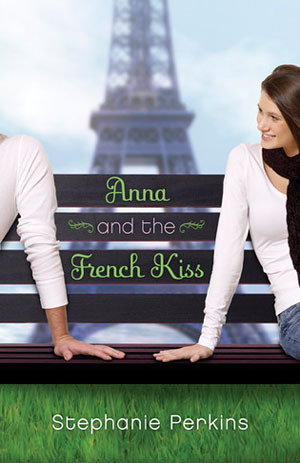 Title: Anna and the French Kiss
Author: Stephanie Perkins
Series: Anna and the French Kiss #1
Publication: 2nd December 2010 by Dutton Juvenile
Genre: YA, Fiction.
Around the Year in 52 Book Challenge – A book with along title (5+ words)
Synopsis (Goodreads)
Anna is looking forward to her senior year in Atlanta, where she has a great job, a loyal best friend, and a crush on the verge of becoming more. Which is why she is less than thrilled about being shipped off to boarding school in Paris–until she meets Étienne St. Clair. Smart, charming, beautiful, Étienne has it all…including a serious girlfriend.
But in the City of Light, wishes have a way of coming true. Will a year of romantic near-misses end with their long-awaited French kiss?
My Thoughts
Anna has been 'abandoned' by her parents in an American boarding school for rich, gorgeous American teens in Paris. L'horreur! It gets worse! There's a hot, mopey guy back home who she's in love with but he prefers her friend and the other guy who she's in love with in Paris has a girlfriend. Oh non! What an awful life with such huge problems.
I enjoyed Anna and Etienne going around Paris, as it reminded my of my time there, but that was about it.
With a title containing French Kiss I expected kissing and romance. What I was given was a lot of self pity, pining and then some cheating.
I think I'm getting too old for this…
My Rating