I have just flown back from a couple of days in Barcelona. This is slightly shorter than what I would usually spend in a city so we had to just do the highlights.
As you've probably gathered from my previous posts, I spend a lot of time walking around the cities rather than getting public transport but Barcelona has so many steps I had to cave and get the Metro to save my poor legs! The Metro is super easy to use – you get a T-10 ticket that lets you have 10 rides on any form of public transport.
---
Park Guell
A lot of Barcelona is designed by the same architect, Gaudí. We had been pre-warned that this sells out quickly so to book online, on the day we arrive all tickets for the day were sold out by 10:30, so unless you're getting there super early and willing to wait/come back later, definitely book online. The gardens around the main Park are open to the public and are beautiful, I especially enjoyed the balcony walkways and the mound with three crosses on. Inside Park Guell itself is phenomenal. Incredibly busy, but totally worth it. There are mosaics everywhere, including the houses and the iconic lizard. I particularly loved the tall white marble columns with the mosaics on the ceiling. This was definitely one of the highlights of my trip!
---
La Rambla
At one end, closest to the sea, is a giant statue of Christopher Columbus pointing out to sea. I had great fun pretending he was singing different songs (I want you, you and you). If you walk down La Rambla it is heaving! It has lots of pavement cafes and souvenir kiosks. What can be more touristy than drinking Sangria and eating Paella on La Rambla! Only downside is there are lots of people selling things illegally and lots of warning about pickpockets, including by our transfer.
---
Picasso Museum
We turned up on the first day around 4pm and the wait for tickets was 2 hours! SO we turned up at 9 the next day and we only had to wait 5 minutes – so definitely get there early if you don't want to pre-pay or wait for long. I was really surprised by the vast amount of work by Picasso in this museum, and the range of styles! I'm only use to his iconic cubism and surrealism but he was disciplined in many forms. We got audio guides and went into the exhibition, both of which I would recommend as his more well known pieces were on display in the exhibition.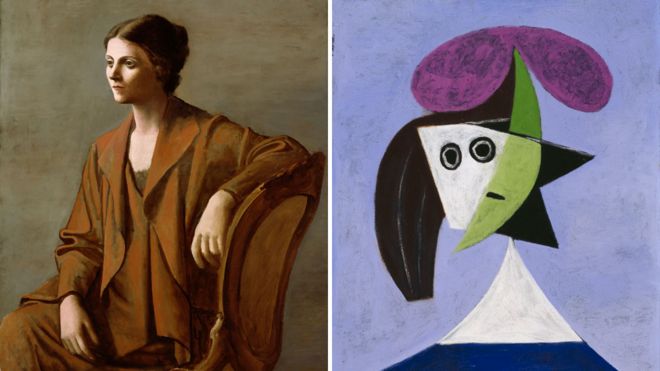 ---
Montjuic
At the top of a mountain, there is a way to walk up to it, but there was no way I was going to do that! There is a funicular you can get on that takes you to the top! I was very excited to go on the funicular for the first time. Turns out they sound more exciting than they actually are! At the top there are some beautiful gardens (with yet more steps) and the Olympic Stadium. We also found the Magic Fountain but unfortunately they only do displays on certain times and it wasn't on during our stay – this is definitely something I'd like to come back again to see.
---
Parc de la Ciutadella
This park was gorgeous! In the middle is the most gorgeous fountain and steps. It's so splendid that my little camera couldn't get all of it in. There is a cute little pond that had boats on so you could go rowing and, absurdly, a giant mammoth you could have photos with. At the other end of the park is the zoo.
---
Sagrada Familia
This is quite possibly the most breathtaking building I have ever seen. We booked tickets online to go inside and got the audio guide, which is definitely worth the money. The building is still not complete, construction began in 1882 and isn't due to be complete until 2026.
On one side of building it depicts the Nativity – Mary begin chosen and Jesus being born – and the other side depicts the Passion – the death and Resurrection of Jesus. Both sides are completely different and utterly breathtaking. Even if you're not going inside, seeing the Sagrada Familia is phenomenal.
Inside is a stark contrast to the outside but just as beautiful. It's very white with large, colourful stained glass windows. The pillars were built to replicate trees, and designed so that sound can't echo.
My only sad point was that we booked to go up the towers and they were closed because it had rained a bit! Would definitely love to have gone up them!
---
As per tradition, we also went to the Hard Rock Cafe. We also went to see Casa Batlló but didn't realise it was still open so didn't go in!
If we were to go again I would love to go into Casa Batló , see the Magic Fountain, go up the towers in the Sagrada Familia and I know Daz would want to go to Camp Nou.
Have you been, or like to go, to Barcelona?
What did you do / would you like to do?
See my other travels, including Paris and Rome, here.