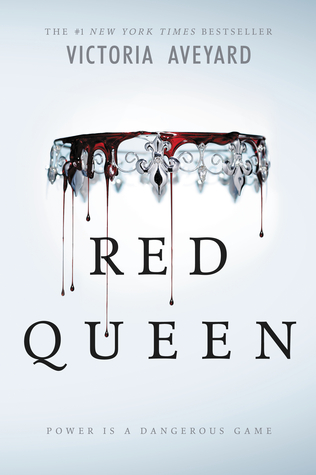 Title: Red Queen
Author: Victoria Aveyard
Series: Red Queen #1
Publication: 10th February  2015 by HarperTeen
Genre: YA, Fantasy.
Around the World in 52 Books Challenge –  A book where one of the main characters is royalty.
---
This is a book that you've read before. Many times. It's just a mash up of lots of popular books. This left it being highly predictable and, for me, disappointing.
There are Reds and Silvers. Silvers have special powers (think X-Men) and therefore rule the Reds and send them off to war at 17 to fight their battles. Throughout the book, the Reds do very little escape their living state.
And then Mare comes along. Like most YA heroines,  she is the reckless Saviour, who is unlike all the others and powers. Again, think any YA heroine, she is also sassy but makes silly choices. When she gets two love interests come along she thinks about them both obsessively. On the bright side, the love triangle isn't dominating of the book.
I loved Queen Elara. Manipulative, ruthless and malicious, she was something fresh in the book as she provided twists. Although, again, the character was a lot like Cersei from Game of Thrones as she had a fierce love for her children and was ruthless in getting them, and herself, power.
For me, the major saving grace of this book was the ending.
I know lots of people loved this book and they can get over the fact that it's basically a mash up of other books because they get investing in the characters but for me it was too similar to other books, making it predictable and lacking in originality.
Title: Thirteen Reasons Why
Author: Jay Asher
Series: N/A
Publication: 18th October 2007 by Razorbill
Genre: YA
Around the World in 52 Books Challenge – An epistolary fiction
---
Wow.
I read this book just after the TV series had been released on Netflix. I went in knowing nothing other than it was about suicide. I was completely hooked.
This is Hannah's story, even though she has already killed herself. Before she committed suicide, she recorded 13 cassette tapes which are passed on to 13 people to say how they had an impact her decision to end her life.
I was so captivated by what Hannah was saying. It was just so eerie and powerful. I sped read Clay's bits, as really he was just a mediator as he listens to the tapes, just so I could listen to what she was saying.
Whether you like the book or not, it still has a powerful message which really makes you think about how our words and actions have an impact on other's lives.
Title: The One Memory of Flora Banks
Author: Emily Barr
Series: N/A
Publication: 12th January 2017 by Penguin
Genre: YA
Around the World in 52 Books Challenge – A book written or set in Scandinavia (Norway, Sweden, Finland, Denmark, Iceland)
---
This review contains some minor spoilers
I received a few chapters of this book in one of my Illumicrate boxes. Then I started seeing it everywhere. So when it came down to being 99p on kindle, I had to buy it. I'm glad it was only 99p.
Flora has anterograde amnesia. She can't remember anything day-to-day, and writes things on her arm to help her remember. Then she kisses someone she shouldn't have and the next day she begins remembering things for the first time since she was ten. Then the boy is gone. She thinks he's moved to the Arctic…
I haven't read many books about anterograde amnesia but all the ones I have read have the same "twist" that someone is not telling them something. So when the twist came up, it wasn't a surprise, it was a groan that emerged from me.
This whole book just screamed unbelievable to me. Not only the twist but her making her way to Norway on her own without raising any suspicion.
The one thing I did like is that the synopsis suggested that her amnesia could be cured by the kiss, but luckily (for the plot) it wasn't.
---
Have you read, or are you going to read, any of these books? What did you think?