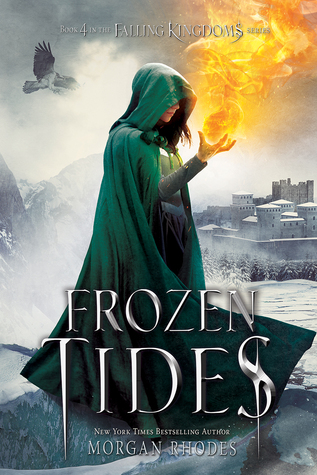 Book 4 in the Falling Kingdom Series
Review Gathering Darkness(book 3).
My rating: 4.5/5
Synopsis (Goodreads)
Rebels, royals, and monsters wage war over the Mytican throne in the shocking fourth book of the Falling Kingdoms series, from New York Times bestselling author Morgan Rhodes.
CLEO: Reeling after a bloody showdown in Limeros ending with Amara's abduction of the water crystal, and a vacancy in the Mytican throne, Princess Cleo must cast aside her feelings and look toward her kingdom with the eyes of a Queen.
MAGNUS: With the kingdom in chaos, Princess Lucia still missing and quite possibly in danger, and a shocking realization about Cleo, the steely prince is once again torn between love and duty, leaving him wondering whether he's strong enough to rule his people.
LUCIA: The young sorcercess has had her vengeance after the cruel death of her first and only love. Heartbroken and unable to trust anyone, she allies with the awoken Fire god, who also seeks revenge.
JONAS: After escaping death by the skin of his teeth, the defeated rebel—along with a mysterious stranger–leader reunites with Princess Cleo, only to find himself a mere pawn in a dangerous hunt for the elusive Kindred.
KING GAIUS: Abandoned by Melenia and betrayed by his own children, Gaius flees Mytica and sails to Kraeshia, where he attempts to ally with the famously brutal emperor across the Silver Sea.
My Thoughts
Oh my goodness, Morgan Rhodes sure does know how to do a good ending! We have to wait HOW long for the next book?
I was very annoyed with the publishes for this book. I really wanted to read it as soon as I put down Gathering Darkness, but they made us wait for a year. Worse for the UK, as it wasn't released in December over here, we had to wait until January. Outrageous! And now more waiting.
Frozen Tides begins where Gathering Darkness finished. Cleo and Magnus  are guilty of treason – of opposing the King of Blood. While, Jonas and Lucia, and a unknown person with her, are in pursuit to hunt the ambiguous Kindreds.
It felt a bit disjointed at first, especially Lucia's story line, as everyone had separate paths, but it all came together in the end. The second half especially was fast paced, with so much happening. Morgan Rhodes writes so she captivates her audience brilliantly. It doesn't feel like "fan pleasing" as some authors do to engage the audience, yet I imagine certain elements will make the audience scream with delight…and other parts make them throw their book in anguish.
A brilliant sequel and I cannot wait to read the next book.