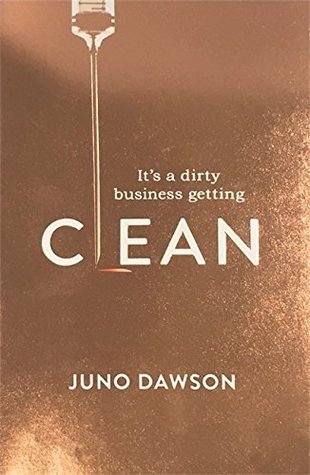 Title: Clean
Author: Juno Dawson
Series: N/A
Publication:  April 5th 2018 by Quercus Children's Books
Genre: YA
Around the Year in 52 Books – A book published in the last 3 years (2016, 2017, 2018) by an author you haven't read before
I can feel it swimming through my veins like glitter … it's liquid gold.
When socialite Lexi Volkov almost overdoses, she thinks she's hit rock bottom.
She's wrong. Rock bottom is when she's forced into an exclusive rehab facility.
From there, the only way is up for Lexi and her fellow inmates, including the mysterious Brady.
As she faces her demons, Lexi realises love is the most powerful drug of all …
It's a dirty business getting clean …
This was so gripping I read it in one sitting.
It doesn't hold back, tackling a range of subjects including drug addition, eating disorders, mental health, gender identity and friendship. It's dark, humorous and gritty.
The story centres around Lexi, a Russian heiress, living in London. Her brother witnesses her downfall and takes her, against her will, to rehab. We follow her coming getting clean, coming to terms with her addiction and see how she got there.
Lexi isn't always a likeable or relatable character. She's rich, sharp, surrounded by toxic relationships which encourage her to make questionable decisions, and is determined. But as the story progresses she changes and grows and is a different person at the end of the story. It truly was wonderful to read.
The only thing I disliked about this book was the ending as it was too unrealistic and neat for my liking.
A brilliant read. This is definitely going to be in a lot of lists for top books of 2018.