Title: Parsnips, Buttered: How to win at modern life one email at a time
Author: Joe Lycett
Series: N/A
Publication: 7th September 2017 by Hodder Paperbacks
Genre: Humour, Popular culture.
Around the World in 52 Books Challenge – A book in the middle of your TBR list.
Dear Reader,

Life is hard. We are a bombarded generation: Facebook, billboards, Twitter, Instagram, taxes, newspapers, watches monitoring our sleep, apps that read our pulse, terrorism. There's such an onslaught to the senses these days it's a marvel any of us manage to get out of bed. I love bed.

While we are overwhelmed and confused by the miasmic cloud of information, there are those that seek to take advantage: there are parking fines, hate Tweets, Nigerian email scams and Christmas newsletters from old school friends about their ugly kids. And just as we're getting round to doing something about it, we're distracted again.

I, Joe Lycett, comedian, wordsmith, and professional complainer, am here to help. During my short life of doing largely nothing I've discovered solutions to many of life's problems, which I impart to you, dear Reader. Containing a centurion of complaint letters to unsuspecting celebrities, companies and anyone brave enough to clog up my phone, as well as illustrations, one-liners , jokes and life hacks, this little gem offers you a collection of tips and advice* for all manner of modern woe. By the time you have finished reading this book you will have learnt how to:
– Reverse a parking fine 
– Manipulate the tabloid press 
– Navigate social media 
– Respond to hate mail 
– Out-weird internet trolls 
– Contest a so-called ripe avocado 
– Send the perfect Christmas newsletter 
– Defeat ISIS 
– Take down multi-national companies 
AND MUCH, MUCH MORE!
Joe Lycett x
* If you are looking for guidance with taxes, quitting smoking, moving house, love, divorce, education, healthcare or anything actually important may I recommend speaking to friends or family members and not consulting a book by a comedian who eats halloumi at least twice a day.
Oh my! What a treat this book is.
If you haven't heard of Joe Lycett, turn on a panel show – you'll probably see him. If not, here's a link of him doing some comedy which ties in with this book.
Joe loves writing complaints. So much so, that he has created different aliases to write complaints from. He's managed to get out of parking fines with solid evidence that as parked on the moon, wind up mangers with pictures of a missing cat (it's a fox), helped Waitrose improve their pork and Brambley apple sausage roles, and provided the world with some truly inspirational quotes.
Sometimes the self-service is no quicker than the normal checkout.

Follow your own path.
Don't cry when it rains. The weather is weeping for us all.
Life is for the living. If you're not living you're dead.
I particularly enjoyed his selfies with celebrities, especially these ones (which I nabbed from Joe's Twitter):
I also really enjoyed the little images at the end of each chapter. Some made me cackle.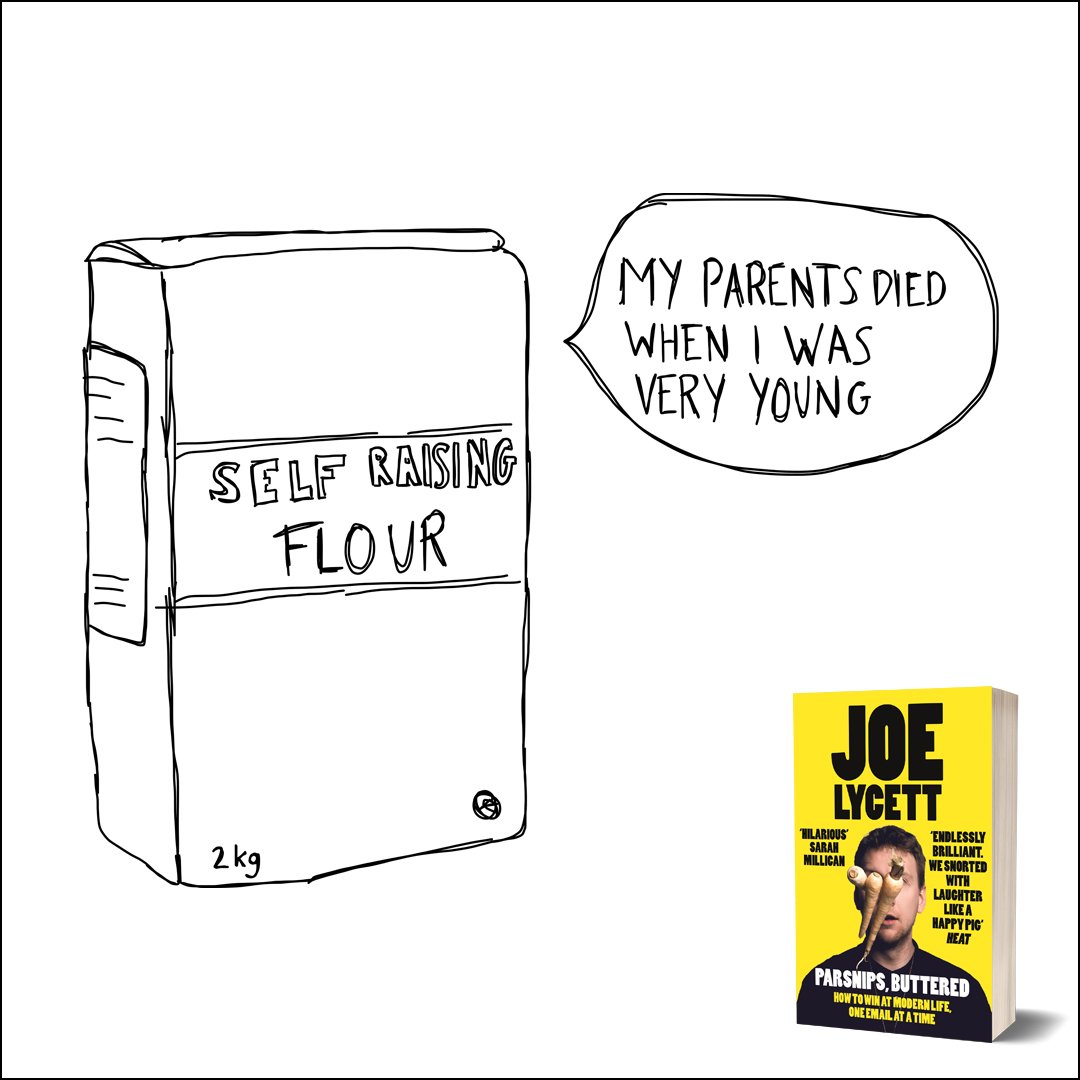 If you want a laugh, buy it! You won't be disappointed.