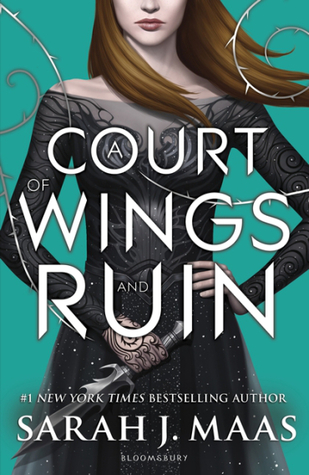 Title: A Court of Wings and Ruin
Author: Sarah J. Maas
Series: A Court of Thorns and Roses #3
Publication:  2017 by Bloomsbury
Genre: YA, Fantasy
Around the Year in 52 Books – A book with a location in the title.
Looming war threatens all Feyre holds dear in the third volume of the #1 New York Times bestselling A Court of Thorns and Roses series.
Feyre has returned to the Spring Court, determined to gather information on Tamlin's manoeuvrings and the invading king threatening to bring Prythian to its knees. But to do so she must play a deadly game of deceit – and one slip may spell doom not only for Feyre, but for her world as well.
As war bears down upon them all, Feyre must decide who to trust amongst the dazzling and lethal High Lords – and hunt for allies in unexpected places.
In this thrilling third book in the #1 New York Times bestselling series from Sarah J. Maas, the earth will be painted red as mighty armies grapple for power over the one thing that could destroy them all.
This review was really hard to write. After the ending of ACoMaF I just had to pick this up and read it straight away. Although I enjoyed it, I had really high hopes for this book and came out feeling like this is the weakest of the 3 books. That's not saying it's bad, far from it, but the other two books had me reading at ridiculous times and for hours on end, squealing and fangirling. This book had me more thinking, get to the point!
I'm finally completing this review almost 2 months after reading the book. Every time I sat down to write it, it was hard to think of what to say that hadn't already been said before. I also found that the more I thought about the book, the harder it was to focus on the things I enjoyed, it was so much easier to pull out the things I disliked.
I was put off of this book more than the others as it is so ruddy thick! I was really frustrated as within the first 100 pages Fayre is undercover, which was great, except she kept doing something and then explaining it. We as readers are not dumb, surprisingly enough we can figure out what she was doing and why without being spoon fed.
In this book we see a lot more characters introduced and more locations, as they go to the different courts. I loved seeing all the different courts and hearing the Bone Carver and Weaver's back story. The characters are a definite strength in this book, and series as a whole. We get a lot more back story to the main characters, and I just love how she's able to write about Feyre's raw emotions such as struggling with PTSD.
However, with more characters and places came greater pacing issues. I feel this book could easily have been a third of a book smaller, especially if you removed all the unnecessary sex scenes. If I'm honest, I'm writing this review about 7 weeks after finishing the book and I'm having to look up what happened because a lot of  it was just that unmemorable.
Taking the series as a whole, it would definitely be a solid five star. I will definitely be re-reading it again the future and it will be very interesting to see how my opinion on it changes with the re-read. Especially for the first book, knowing what I know now…